International Course on Syntropic Agriculture with Ernst Götsch - May 21st to 30th, 2020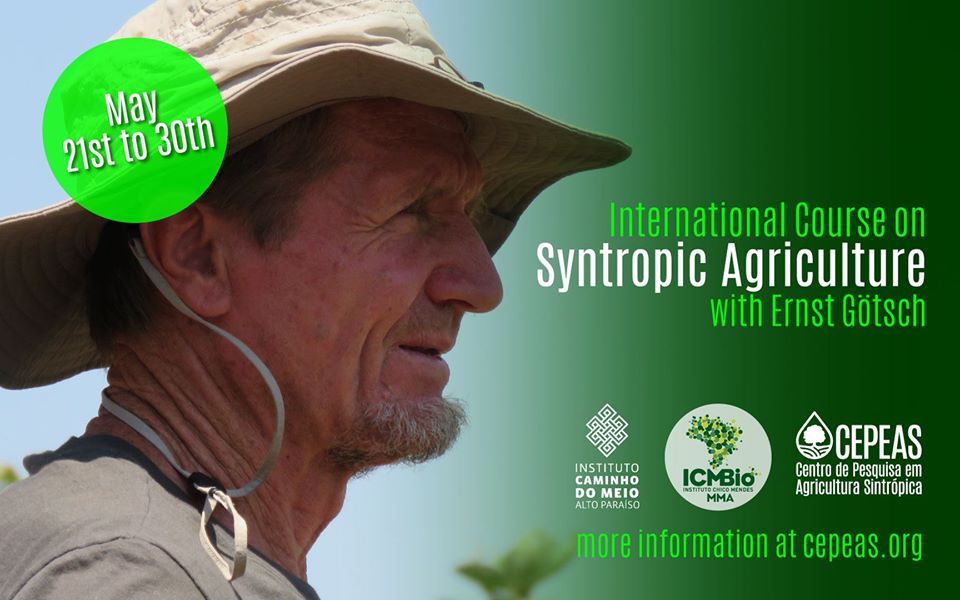 Details provided by CEPEAS:
This course is intended exclusively for people who are working with Agriculture, whether implementing Agro-ecosystems, working with consultancies, dissemination, etc.
It aims to deepen the knowledge about the techniques and principles created by Ernst Götsch, allowing you to move more quickly towards systems of abundance.
The course aims to generate a greater understanding of the concepts of Syntropic Agriculture, allowing the participants to have a knowledge based on solid bases, regardless of the biome they are working on, causing everyone to get rid of the recipes and start working definitively with processes.
This course will be held in Brazil, starting with Ernst himself at the CEPEAS – Syntropic Agriculture Research Center, in the Cerrado biome (5 days), then we will go to Henrique Souza's farm (2 days), Ernst's student, who has been implementing agro-ecosystems on his farm for 25 years, showing the great potential of this technology. The workshop ends at Ernst Götsch's own farm in southern Bahia (2 days), when we then return to Brasilia (Brazil's capital).
More information and enrolment, click here.
Syntropic Farming Workshop with Ernst Götsch - March 25th to 29th - Portugal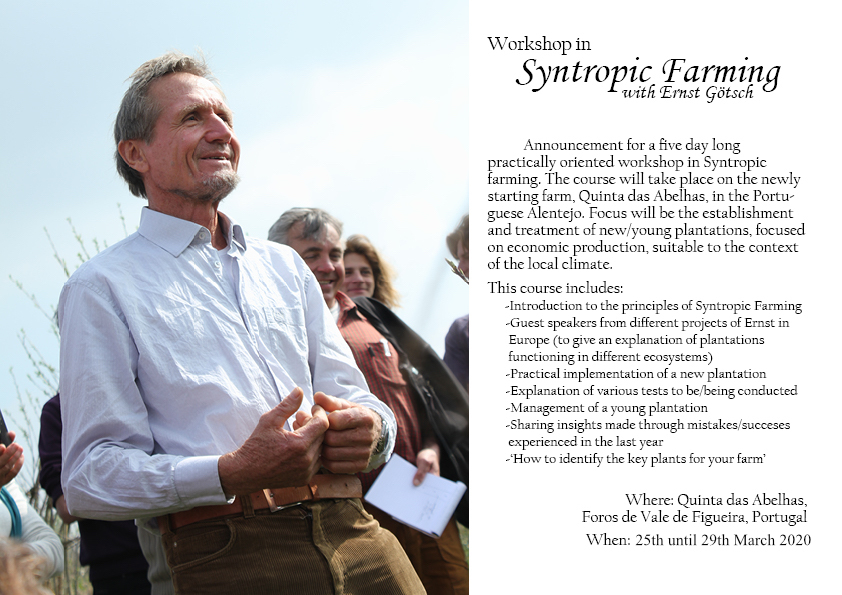 Information provided by the organizers:
Dates of the Course: 25th – 29th of March
Language: English
Where: Quinta das Abelhas, no Montado do Freixo do Meio, Foros de Vale de Figueira, Portugal
Instructor: Ernst Götsch
Host: Marc Leiber (Farmer at Quinta das Abelhas)
Closest city: Montemor-o-Novo
Closest airport: Lisbon
Number of openings: Maximum 30, preferably 25
Practice oriented workshop with theoretical introduction, and account of lessons learned from the experience of the previous years.
Participating in the implementation of a new plantation
Management of a recently established plantation

Introduction of summer crops

Introduction to principles and theoretical concepts of Syntropic Farming by Ernst Götsch

Examples of Syntropic farming in different Eco-Systems

Partially presented by the farmers of these places (guest speakers)

How small and or large-scale production systems could be adapted in order to act in a more 'intelligent' manner
Costs per participant: 890€ (including lunch and two coffee breaks per day).
This course targets: Farmers, owners of land with the interest to apply strategies of Syntropic farming, and/or professionals of related fields
Registration upon application: Your application should include a motivational letter, as well as an explanation of your background (how you relate to the field) and your current occupation.
Please send your applications to: marc@growback.eu
Housing is available upon request, but not included in the inscription fee. The amount of space available for housing on the estate is however very limited. Prices include breakfast and dinner. Available are: two rooms with a double bed, as well as two rooms each with two single beds at the price of 100 € per night (including breakfast and dinner).
Curso de Agricultura Sintrópica com Ernst Götsch - 10 a 12 de novembro 2019 - CEPEAS, Goiás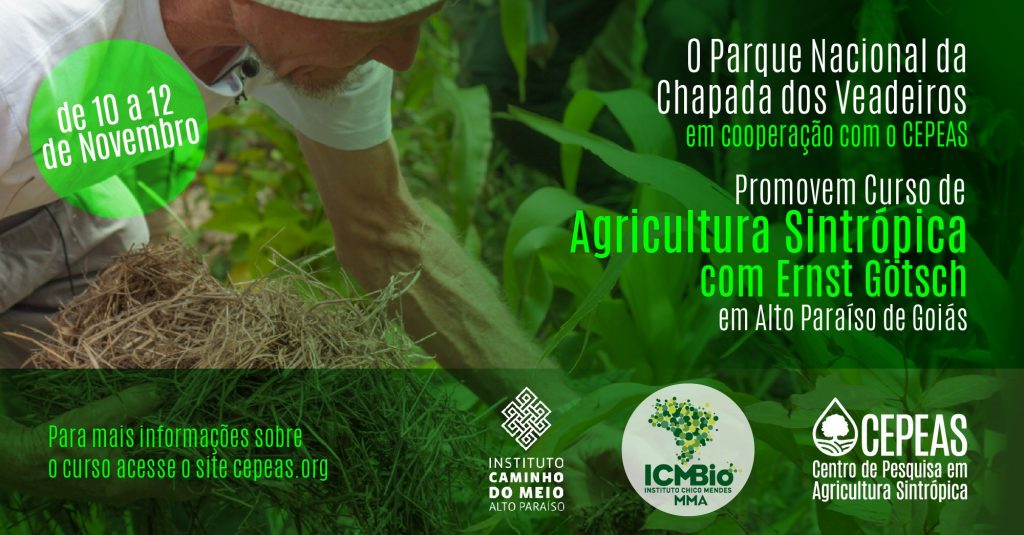 Workshop 26-27th October with Ernst Götsch - San Salvatore Monferrato - Italy
Free participation (please send motivational letter by email to camila.arza@villafortuna.bio) – ONLY 3 SEATS LEFT
☘️Discussion with Ernst Götsch: how to apply the successional agroforestry concept to temperate pedo-climates.
☘️Case study with Ernst Götsch: The 'Regenerating Villa Fortuna Project'
Link to the project: https://www.almonature.com/it/regenerating-villa-fortuna/
☘️Networking meeting for agroforestry practitioners and scientists: we need more case studies and data to propose agroforestry models as answers to SDGs!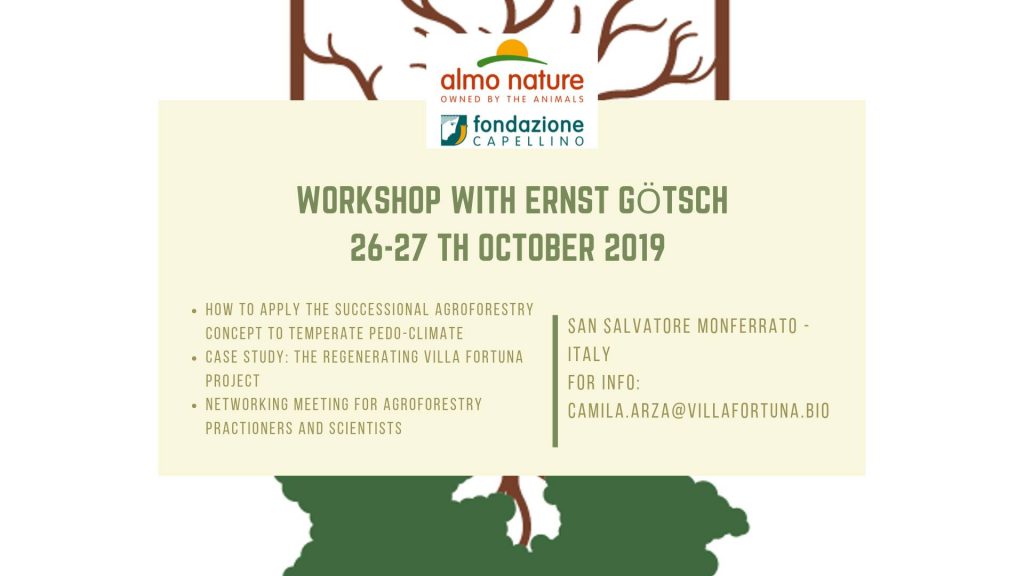 Workshop with Ernst Götsch - Germany, November 2nd 2019
click on the image to visit the organizer's website for more info.
Workshop teórico com Felipe Pasini - Sítio Semente (DF - Brasil), 13 a 15 de setembro 2019